Ways of city since 2015
I build a translation-instrument for transform city maps into drawing.
I ride on a pen through every street of the map
and on the other side the instrument form the drawing of the city texture.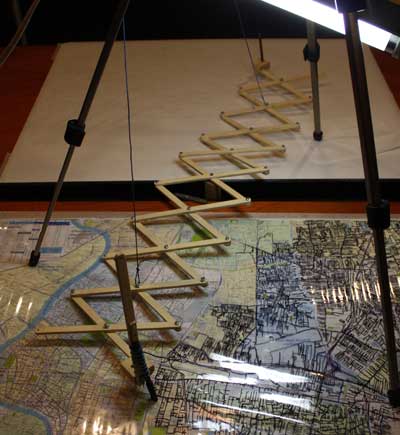 Transformations-Instrument: Map to drawing comes to texture | 2015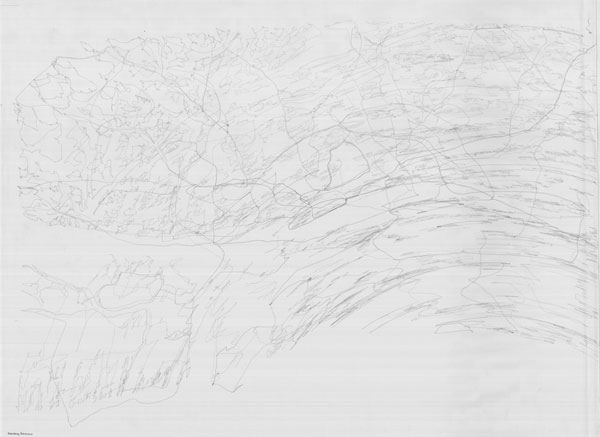 Hamburg | 75 x 100 cm | 2015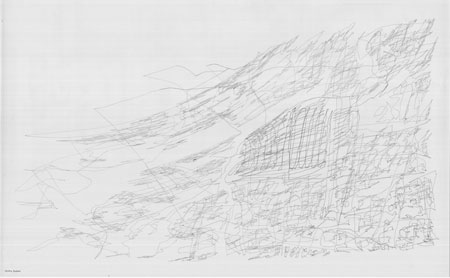 Osaka | 53 x 85 cm | 2015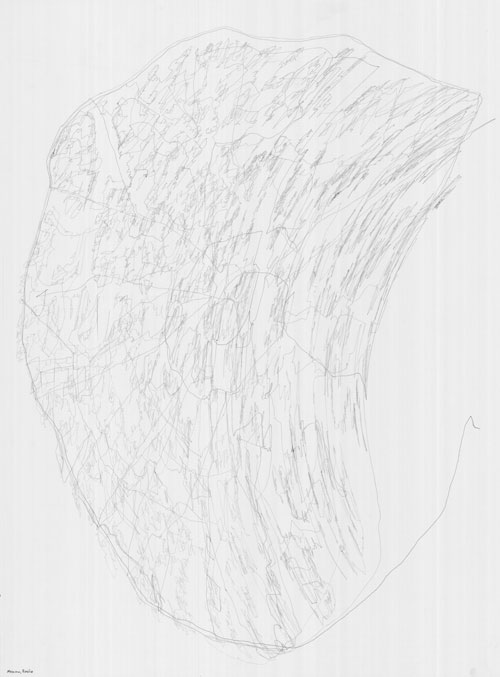 Moscow | 64 x 85 cm | 2015

Cultural textures since 2011
An experiment with typescript
Temporarily, I exchanged my old computer for a Russian typewriter.
The typewriter was my security and actually I had no idea what to do with it.
This bright red typewriter spent three or four years in my studio before
I began to play with it in an autistic fashion.
I typed every letter endlessly, using a sheet of A4 paper for each.
I only used capital letters, so that the lines would form a superposition.
33 sheets were produced, each with one letter: each one creating its own structure.
All the sheets together use the alphabet to reveal an ornamental system of this particular cultural sphere.
My second typewriter was an Erika, which I got in exchange for a drawing.
It has a Latin, or rather a German keyboard.
I repeated the process and produced another 26 sheets.
In 2013 i went on an excursion to Asia.
I got in Japan, Korea and Thailand lokal typewritter.
I send them to my studio and continued with the Cultural textures.
At present I am looking for mechanical typewriters from areas with different alphabets
(Armenia, Israel, the Arab world, Georgia).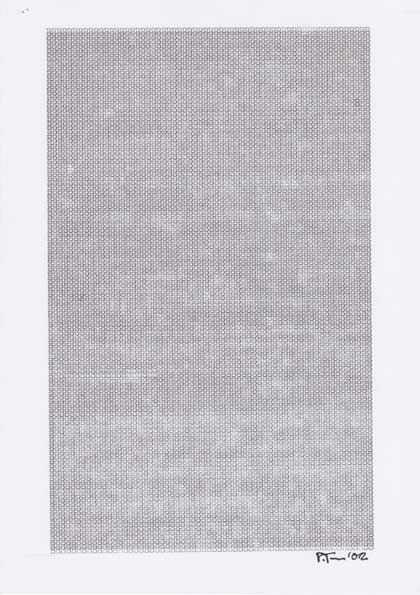 Cyrillic | Russia | 21 x 29.7 cm | 2012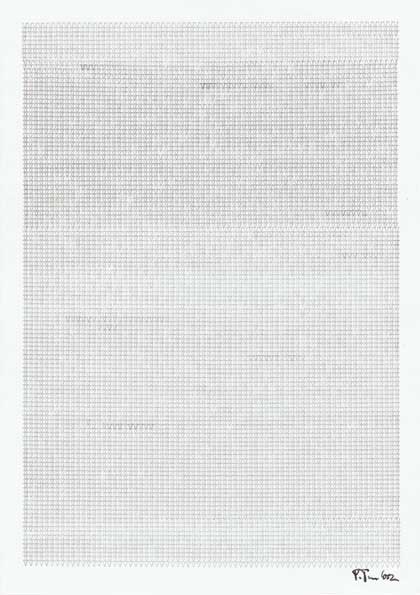 Latin | Germany | 21 x 29.7 cm | 2012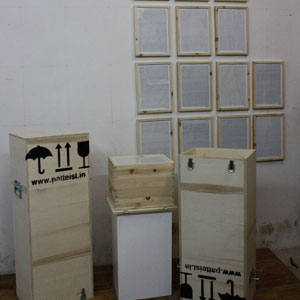 Installation | Open Studios Brandenburg | 2013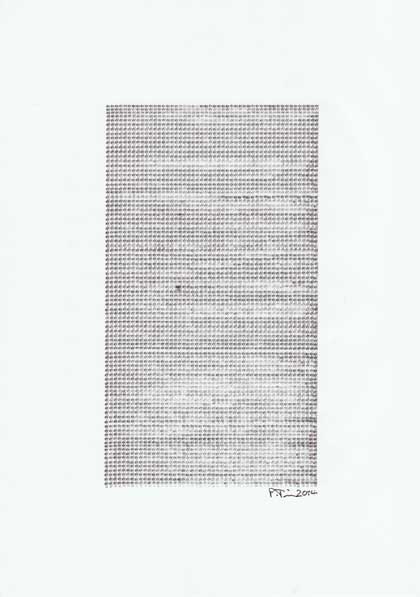 Thai | Thailand | 21 x 29.7 cm | 2014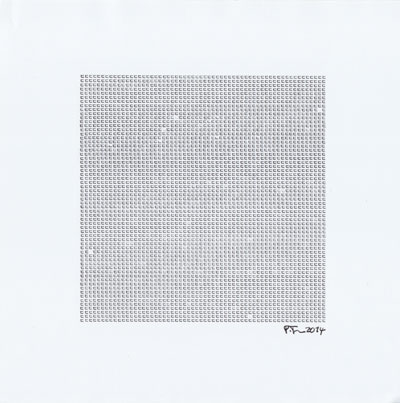 Hangul | Korea | 21 x 21 cm | 2014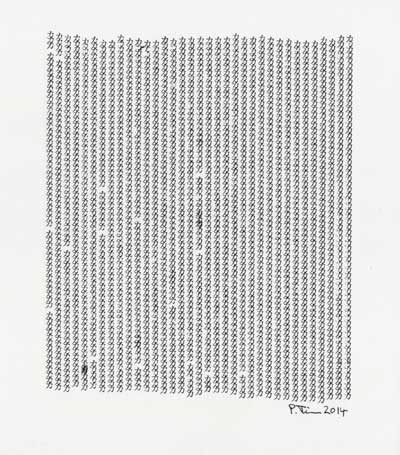 Katakana | Japan | 18.2 x 20.6 cm| 2014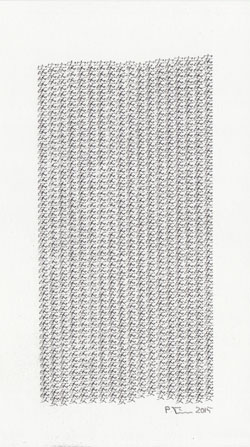 Kanji | Japan | 10.3 x 18.2 cm | 2015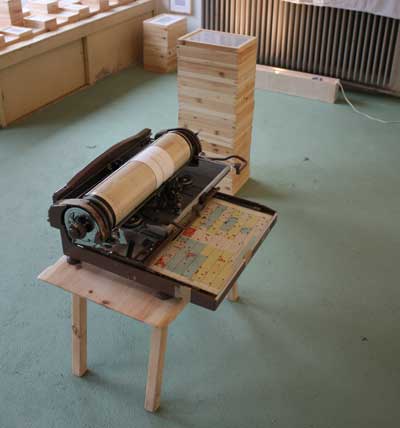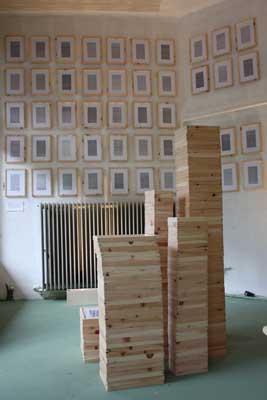 Exhibition ::Welt sein:: | Bad Gastein/Austria | 2014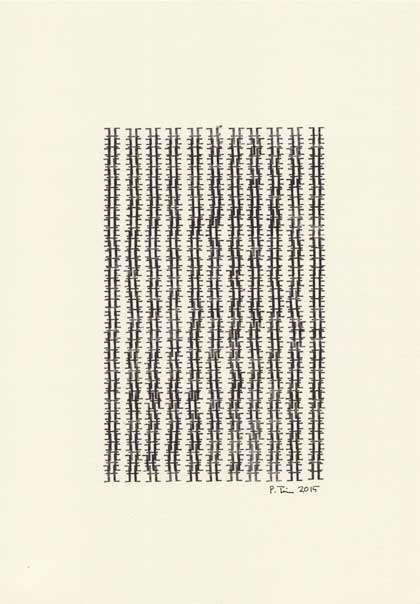 Tifinagh | Tuareg | 21 x 29.7 | 2015

Heat Images since 2005
The title Heat Images triggers associations with photographs
that are taken of buildings in order to demonstrate heat loss.
My heat images visualise the emotions of a city.
Thanks to Jovana Radovanović and Jana Nenadić | Belgrade Serbia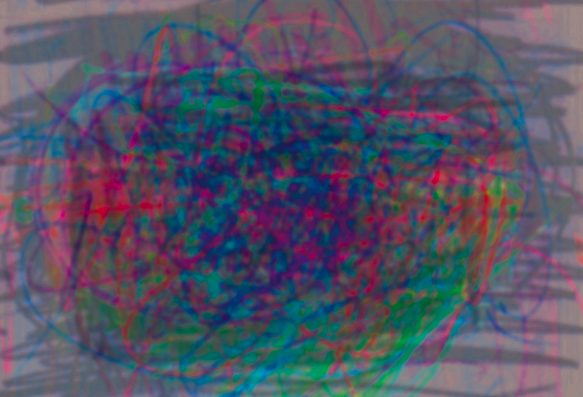 Heat image Beograde, 19th october 2012, 44° 49′ N, 20° 28′ O | 23° C | 131 MSL
Alexander von Humboldt attempted a physical description of the world
with the aid of sextants, travel reports and drawings,
whereas my heat images create a kind of
emotional mapping.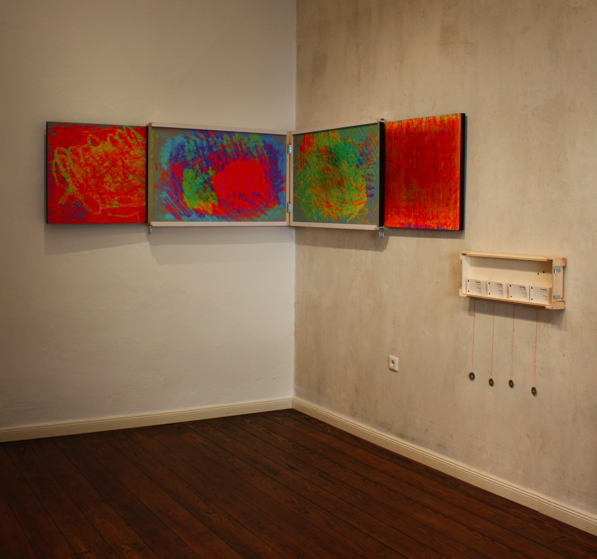 Exhibition ::Cover:: | Nachtspeicher 23 e.V. Hamburg Germany | 2011
When I was studying as a guest in St. Petersburg for six months, I asked myself whether and how it was possible
to portray that city with its architecture and emotions using an objective reality. I decided in favour of questioning
the inhabitants and chose 12 different coloured drawing pencils as a medium with which to hold onto their
emotions. The inhabitants judged their city subjectively, using colours as the expression of feelings. These
colours create the warmth that they feel. The heat images give the city a space, as a place that is structured.
Each heat image starts out from a question posed 80 times: "What colour do you associate with your city?"
This is linked with a request to sketch the answer on a piece of white card. 80 answers, i.e. 80 cards with
hatched lines in different colours, create a joint picture when overlapped and digitally processed: the additive
colour combination creates an individual colour spectrum for each city and makes it possible to experience the
sensually perceptible space visually. The heat images are evidence of an emotional identity that actually exists
and is shared by this city inhabitants.
Exhibition | Tag des offenen Ateliers Brandenburg | 2011